Let's work together for a NZ/NPE future
Together with others we work to create buildings, communities, and a planet that are productive, healthy and thriving. Maclay Architects is a nationally recognized leader in sustainable Net Zero Energy and Net Positive Energy buildings— we offer proven and reliable solutions to create buildings and communities that are productive, healthy and beautiful; as well as, a prudent investment for today and for future generations. We provide this in three interrelated ways: Living Building and Community Design, Net Zero/Net Positive Energy Design, and Carbon Positive Design.

Living Buildings and Community Design
A new design approach and philosophy of the 21st Century is founded on an emerging paradigm for buildings –not as physical and mechanical objects, but rather as "Living Buildings." This approach combines connections to nature (Biophilic design) and design based on nature's principles (Biomimicry). This design paradigm sees organizing buildings, communities and cities as living organisms, also known as organizational ecology. This is a new and emerging paradigm for healthy engaged living in a carbon positive world. These buildings maximize daily and seasonal rhythms of daylight, use natural forms and low-embodied carbon materials, and are founded on restorative and regenerative design thinking, building science, and low energy strategies and approaches.
These design approaches improve occupant productivity and satisfaction, through connection to nature, daylight, enhanced indoor air quality, and integrated and sustainable design strategies. Ongoing research documenting the improved outcomes of these qualitative benefits show they reach far beyond energy savings (see - Why NZ/NPE is the best investment today—the financial case for more information).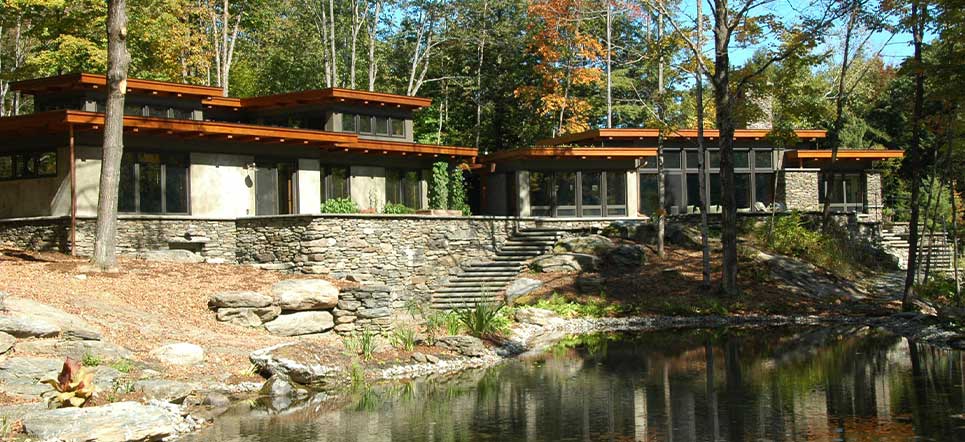 Net Zero/Net Positive Energy Design:
Since 1971, our practice has delivered the highest performing and renewably powered buildings in cold climates. Since 2000 we have focused on Net Zero Energy, Net Zero Energy Ready, and Net Positive buildings for our clients. We accomplish this by analyzing comparative capital and operating costs and cash flow analysis during early design phases to show clients long-term financial benefits of NZ/NPE design.
To achieve this, we have 4 core competencies:
1. Expertise based on understanding and innovating NZE strategies, technologies, and practices. We have documented this work in writing the most comprehensive book on NZE and speaking nationally and collaborating with other professionals seeking new and innovative solutions.
2. Experience successfully, and cost effectively, delivering more NZE and low EUI (Energy Use Intensity) buildings in cold climates than any other architecture firm.
3. Based on our years of net zero experience we are intimately aware of NZE challenges, constraints, potential problems, quick solutions and lowering risk for our clients
4. Developed reliable and proven NZE design process, including an energy modeling and financial analysis methodology that ensures that NZE design and performance is the most cost effective and typically provides a positive cash flow for our clients.
Given that buildings generate 40% of annual global CO2 emissions, net zero and net positive energy buildings are a key element to shift from fossil fuel use to renewable energy. Net Zero Energy buildings are all electric and produce as much energy as they consume on an annual basis with renewable energy. Net Positive buildings produce more energy than they consume on an annual basis.
The fundamental components of NZ/NPE design are relatively simple and include 3 elements:
1. Substantial envelope improvements and energy conservation to reduce loads.
2. High efficiency mechanical systems including energy recovery ventilation and air source heat pumps (VRF's) and/or ground source heat pumps to provide comfort.
3. Install renewable energy systems, which are most frequently solar electricity from Photovoltaics (PV), to supply power.
Energy conservation levels are established with specific metrics based on how much energy per square foot (similar to miles per gallon for cars) will be consumed. This metric is called an Energy Use Intensity (EUI). For typical buildings in cold climates this will be around 15-25 kBtu's/sf-yr. This corresponds to insulation levels that consist of R60 roof, R40 walls, R20 below grade, R5 windows, and air infiltration of 0.06cfm50/sf of gross envelope. A critical aspect to the envelope construction is controlling air infiltration, which is accomplished through detailed drawings, attention during construction, and progress air barrier testing. Our air sealing standard is 0.06 cfm/sf of gross envelope area at 50 Pascal's, which is also the standard used by the Passive House Institute US (PHIUS). These and many other design and construction measures indicated in our book, The New Net Zero, are required to build an efficient and cost-effective NZ/NPE building.
To find out more about our NZ/NZP projects go to the following links which include the EUIs and environmental performance of most of our recent buildings, design measures included in our net zero design process, and an RFP template for assisting building owners and developers in selecting a NZ architect.
Carbon Positive Design
In the last 10 years, the environmental community has realized that all carbon impacts are critical. So what is Carbon Positive Design and Buildings? And why does it matter? Carbon Positive buildings account for and lower both the energy used in operating the building and the energy captured or "embodied" in the materials in buildings.
When we think of energy and carbon impacts, we typically are considering the energy that is used for heating, cooling, lights, and plug loads known as operational energy, which has a negative carbon impact. In addition, there is energy consumed to extract, transport, manufacture, and install materials used in construction, which also has a significant impact on carbon use. Carbon impacts of materials are fully released (or stored) during construction—so on the day of construction completion the full carbon impact from materials is complete—as opposed to the operational energy which begins when the building is completed and increases with the life of the building. In general, this means shifting design and construction away from excessive concrete, steel, aluminum, foam, and other materials using fossil fuels and towards wood, mass timber, cellulose and other materials with low embodied carbon impact.
So why is this relevant? If we care about carbon impacts of buildings, and if we believe the science that says we need major change before 2050, then the embodied carbon impacts are equal to or greater than the operational carbon impacts from today to 2050. Thus, there is urgency in assessing and reducing all carbon impacts of our buildings immediately. While we and other environmental architects have been considering embodied carbon for multiple decades, there has been little quantification of embodied carbon.
To make this happen, three actions are important: first selecting materials with full consideration of carbon impacts, secondly to estimate the embodied carbon and to work towards net positive embodied carbon, and third to calculate the operational carbon. Through these three measures we can perform whole carbon accounting and work toward the ultimate goal of whole carbon net positive buildings and address today's necessity to decrease carbon and climate impact from our buildings.
Why NZ/NPE is the best investment today—the financial case
NZ/NPE Buildings are Cash Flow Positive
Maclay Architects has developed a proven and reliable energy modeling and financial methodology, which, along with cost optimized net zero standard design and construction practices, mean that we can accurately estimate energy performance as well as project financial performance based on our client's financial criteria. We have discovered that typically our NZE buildings provide a positive cash flow from day one when the additional incremental net zero costs over a typical building are financed. This means that NZE buildings are less expensive than typical new buildings including capital, operating and financing costs. Below are graphs and links to reports showing the financial performance of various building types and sizes. These include a typical 1,600 sf modular home with savings of $60,000; a 29-unit affordable housing project with savings of $600,000; a 65,000 sf renovated office building with savings of $1 million; and other examples. When clients say they cannot afford net zero, we respond that they cannot afford to not be net zero.